Zaprosite za obisk misijonarjev
Z vami bomo stopili v stik, da bomo skupaj določili čas, ko se bomo oglasili, vam prinesli spodbudno sporočilo in odgovorili na vaša vprašanja.
We look forward to our conversation. We'll contact you in the next 24 hours to schedule your appointment.
Kako mi misijonarji lahko pomagajo?
Čeprav je vaš odnos z Bogom lahko globoko oseben, včasih vsi potrebujemo nekoliko pomoči, da ugotovimo, kaj nam Bog govori. Ne glede kje ste na duhovni poti, vas misijonarji lahko učijo evangelijskih načel in vpogledov, ki so vam na tej poti lahko v pomoč. Predstavljajte si, da so to duhovni vodniki, ki:
vam bodo pomagali, da se boste počutili bliže Bogu.
vam bodo pokazali, kako moliti in prejeti Božje odgovore.
vam bodo pomagali najti odgovore na duhovna vprašanja.
vas bodo učili o Odrešeniku Jezusu Kristusu in njegovem evangeliju.
vam bodo pomagali razumeti svete spise.
vas bodo podprli pri osebnih izzivih.
bodo spodbujali vaš napredek na poti h kesanju, veri in krstu.
vas bodo predstavili skupnosti vernih somišljenikov, ki vas bodo na duhovnem potovanju podpirali.
Kaj pričakovati od srečanja z misijonarji
Misijonarja vas bosta prosila, da srečanje začnete z molitvijo. Če boste želeli, vas lahko prosita, da molitev izrečete vi. V vsakem primeru je cilj, da povabite Duha, da sodeluje pri pogovoru.
Verjetno bosta nekaj minut posvetila temu, da vas bosta bolje spoznala in ugotovila, kaj vas zanima. Misijonarja imata celotni program, katerega vas lahko učita, a svoje sporočilo poskušata prilagoditi vam in vaši življenjski situaciji. Z vami bosta brala Sveto pismo in Mormonovo knjigo ter vas prosila, da v molitvi vprašate, ali je to, kar učita, res.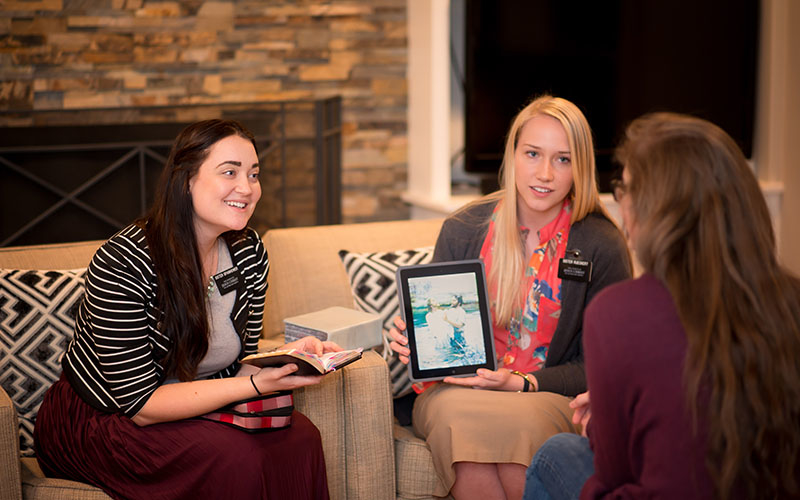 Če boste hoteli, bosta določila naslednje srečanje. Takrat vas bosta nadalje učila o Jezusu Kristusu in njegovi obnovljeni Cerkvi ter odgovorila na vaša morebitna vprašanja. Njun program vključuje tudi sporočila o Božjem načrtu za vašo srečo, o Jezusovem žrtvovanju za nas, veri, kesanju, krstu, Svetem Duhu in spolnjevanju Božjih zapovedi. Prosila bas bosta, da še naprej molite, berete Mormonovo knjigo, hodite v cerkev in celo da se krstite. In zapomnite si, da bosta spremljala vaš tempo ter upoštevala vaš čas in želje, da se boste znova sestali z njima ali pa ne.
ComeUntoChrist.org Chat is typing...